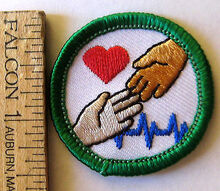 Nursing is a Junior Badge from the Girl Scouts of Central Indiana Council.
With help from Michigan Nurses Association website (http://www.minurses.org) and Nurse Leader magazine.
Six activities are required to earn this Badge.
Activities
Learn about the history of nursing.
Learn about the founder of nursing, Florence Nightingale.
Talk to a nursing student to find out the requirements for becoming a nurse.
Find out what nurses do and why they like what they do.
Demonstrate how to use a stethoscope, blood pressure cuff, thermometer, ace bandage or dressing.
Demonstrate how to take a pulse.
Visit a hospital, clinic, surgery center, or other area where nurses work. Learn what a nurse does for his/her patients.
Describe what it means to care for someone. Demonstrate a caring behavior at home or school for a week. Report what you did to your troop.
Take a Cardiopulmonary Resuscitation class.
Volunteer at a health fair, health career fair, or "Nurses Celebration Saturday" Career Fair through Nursing 2000.
Use a computer to learn about nursing. Go to http://www.discovernursing.com, http://www.nsna,org, or http://www.nursing2000inc.org.
See also
External Links