We're Getting Mutants in the MCU - The Loop
Play Sound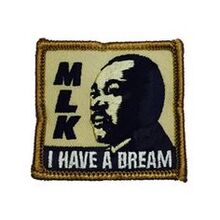 I Have a Dream is an All Ages Award from the Girl Scout Council of Colonial Coast.
GUIDELINES: Choose to complete this council patch or the council's own age level award. Do not do both.
Activities
[
]
Take part in a Martin Luther King, Jr. commemorative activity in your community.
2. With your troop/group/family, plan a Martin Luther King, Jr. birthday party. Use a theme that relates to his life such as peace, justice, fairness, and equality. Consider making decorations, invitations, games, birthday cake and other party elements to add to the fun.
3. See a film, read a book or go to a library to learn about the life of Martin Luther King, Jr. Create a picture, poster or humanity collage from magazine pictures to share with others what you have learned.
4. Talk to people who lived during the time of the Civil Rights Movement to discover what they remember about Martin Luther King, Jr.
5. Visit one of the following sites:
• Newsome House • 2803 Oak Avenue, Newport News, VA 23607 • http://www.newsomehouse.org • (757) 247-2360
• Hampton University Museum • 530 E Queen Street, Hampton, VA 23669 • http://www.hamptonu.edu/museum • (757) 727-5308

6. Invite African American women from your community to speak to your troop about African American history.
7. Write a press release reporting an incident of one of the women who played a role in the Civil Rights Movement.
8. See a video or read a copy of the "I Have a Dream" speech given by Martin Luther King, Jr. Describe what you think his dream for America was. Share times when you have judged people for reasons other than "the content of their character," such as if they were too tall, too fat, too short, or too slow.
9. Write what the "I Have a Dream" speech means to you and how you want to live the dream in your every day life.
10. Visit the web site [1]. Complete one of the activities listed.
See also
[
]
I Have a Dream Try-It I Have a Dream Badge I Have a Dream IP List of Council's Own All Ages Awards
External Links
[
]
Girl Scout Council of Colonial Coast Patch Programs I Have a Dream Patch