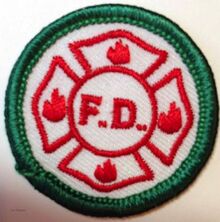 Hot Stuff is a Junior Badge from the Girl Scouts of Central and Southern New Jersey Council.
Complete 6 requirements, including the two starred.
Activities
[
]
*Find out what female firefighters do. Invite one to your meeting. Ask them about their career choice, how it's different from male firefighters and what obstacles needed to be overcome.
2. *Find out about the history of women firefighters. Who was Molly Williams? Note some facts aobut women in service now and then.
3. What do you do if you or someone else catches fire? Learn the principles of Stop, Drop and Roll. Practice the technique with your troop
4. Once the fire is out, you must treat a burn injury. Learn about First Aid for burns.Practice applying a sterile dressing on each other's arm.
5. Visit the Retired Firemans Home in Boonton, NJ. Make holiday ornaments, sing songs or complete a craft with them-or-Contact you local hospital and see what you can do to help burn ward patients.
6. What are wildfires? How do they start? What is an Airtanker? What is a smokejumper? What can we do, as campers and hikers to prevent forest fires? Draw a picture or make a collage showing ways to prevent forest fires and share with your group.
7. How do local firefighters put our fires? Find out about fire trucks and equipment used by firefighters.
8. What would you do if your house were on fire? You can help your family by creating an escape plan. Show your escape plan to your family and practice it.
9. How can you become a firefighter? What kind of education is required. Search the web and find out what it takes. Share the informaiton with your group.
See also
[
]
List of Council's Own Junior Badges
External Links
[
]