Welcome to the wiki for Girl Scouts Council's Own Awards, Badges, Try-Its, and Patches
Edit
Welcome!
Welcome to the Girl Scouts Council's Own Awards website! This site was originally created by katherine.corson@gmail.com and was migrated to this location when WikiSpot closed in April, 2015. This page will continuously under construction. This listing is a complete listing of all Council's Own Awards across the country according to the last time this page was updated. 
We're a collaborative community website about your topic that anyone, including you, can edit. Click the edit button at the top of any page to get started! If you find a patch from your Service Unit that needs updating, please update it, thank you!
Tips for usage: 1. Contact the council BEFORE doing the requirements to see if a) they have the badge available and b) they will sell it to you. Most of the Badges are not available and the councils are getting upset and working to get rid of site like this. Please use Facebook groups to locate these badges, there are tons of them out there. Search using "GS badges" that will pull up some sites. Good Luck and happy hunting. Please do not email us about whether or not you can order the badge, because we don't know. The original wiki based on combining lots of information from different sources.
2. At the bottom of every page is a set of external links, which includes a link to the Council's Own page. Use that link to find council contact information.
If you find any errors or would like to add some of your own information, please edit!
Note: Thanks to Jessi for your contributions. You're a great help!
I know the Try-It above isn't a Council's Own, it's the old Girl Scout Ways Try-It. But it was my favorite when I was a Brownie, and I wish it was still available.
Council's Own Patches and Badges
Edit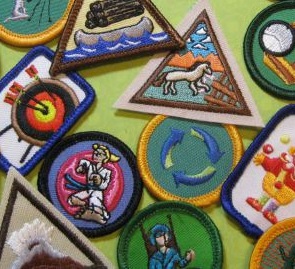 List of Council's Own Try-Its
List of Council's Own Interest Projects
List of Council's Own Patch Programs
List of Council's Own Senior Badges
List of Council's Own Legacy Badges
List of Council's Own Daisy Badges
Community content is available under
CC-BY-SA
unless otherwise noted.