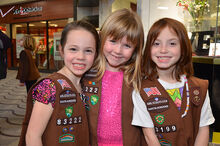 Girl Scout Brownies are in second and third grades (around ages 7–9) and earn triangular shaped Brownie Leadership Journey Awards and National Proficiency Badges. Their uniform consists of a brown vest or sash which may be worn with a white shirt and khaki bottoms or with an official Brownie uniform. The Girl Scout Membership Star is worn with green membership disks, and they wear the Brownie Membership Pin.
Brownies use the Girl's Guide to Girl Scouting for Brownies and the National Leadership Journeys[ to work on badges and activities. They may earn the Bridge to Juniors Award and the Brownie Safety Award.
Unlike some of the other levels, the name Brownie is commonly used with Girl Scout/Girl Guide organizations around the world and has its origin from Brownies in the British Girl Guides.
Legacy Badges 

[

]
Bugs 
Brownie First Aid 
Snacks 
Brownie Girl Scout Way 
Fair Play 
Financial Literacy Badges 

[

]
Money Manager 
Philanthropist 
Cookie Business Badges 

[

]
Meet My Customers 
Give Back 
Skill Building Badges 

[

]
It's Your World-Change It! 
[
]
Computer Expert 
My Best Self
Dancer 
My Family Story 
It's Your Planet—Love It! 
[
]
Potter 
Household Elf 
My Great Day 
Senses 
It's Your Story—Tell It! 
[
]
Letterboxer 
Inventor 
Making Games 
Making Friends 
Journeys 

[

]
Brownie Quest
A World of Girls
Other Awards

[

]
Safety Award (Brownies)
Thinking Day
Trending pages
All items (41)