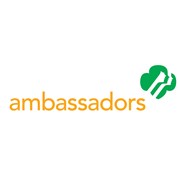 Ambassadors are Girl Scouts who are in eleventh and twelfth grade (around ages 16-18). They wear the same khaki colored vest or sash as Cadettes and Seniors. The Girl Scout Membership Star is worn with navy membership disks.
Ambassadors use the Girl's Guide to Girl Scouting for Ambassadors and the National Leadership Journeys to earn badges that are shaped like an octagon. They may earn the Counselor-in-Training (CIT), the Counselor-in-Training (CIT) II, the Volunteer-in-Training (VIT), the Ambassador Community Service Bar, the Ambassador Service to Girl Scouting Bar, the Gold Torch Award, the Ambassador Safety Award, and the Bridge to Adult Award.
Ambassadors are eligible to earn the Gold Award.
Legacy Badges

[

]
Photographer 
Coaching 
Public Policy 
Dinner Party 
Ambassador First Aid 
Ambassador Girl Scout Way 
Water 
Financial Literacy

[

]
Cookie Business

[

]
Research and Development 
P & L
Journeys

[

]
Bliss: Live It!
Justice
Your Voice, Your World: The Power of Advocacy
Other Awards

[

]
Gold Award
Safety Award (Ambassador)
Thinking Day
Trending pages
All items (19)