We're Getting Mutants in the MCU - The Loop
Play Sound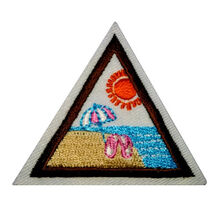 Beach Awareness is a Brownie Try-It from the Girl Scouts of Rhode Island, Inc.
Objective: Girls gain practical life skills, which will help them be safe and enjoy the beautiful beaches along the Gulf Coast.
Guidelines: Participants must complete all of the following requirements.
Flags
[
]
Before you go to the beach, learn the Beach Warning Flags for the particular beach you are going to visit. What does each flag mean?
Double Red Flag
Single Red Flag
Yellow Flag
Green Flag
Purple Flag
Water Safety Rules
[
]
Practice the following water safety rules when swimming:
Never swim alone. Always swim with a buddy.
Swim within the designated areas. Don't swim near pilings, piers or platforms. Be cautious in areas between sandbars or near steep drop-offs.
Do not swim in areas being used by fishermen. Avoid swimming in areas where schools of fish are present.
Beware of rip currents and undertows.
Avoid being in the water at dusk, night time or in the twilight hours. Avoid wearing shiny jewelry and clothing.
Sun Safety
[
]
Practice "Sun" Safety.
Drink plenty of water.
Wear Sunscreen and sunglasses to protect your skin and eyes from the sun.
Learn about UV Radiation.
Visit the website: http://www.nsc.org/ehc/sunsafe.htm
Rip Current Safety
[
]
Learn about rip currents and what to do if you are caught in a rip current. Check out the following website: http://www.ripcurrents.noaa.gov/tips.shtml
Sand Fun
[
]
Build a sand castle or lie down on the beach and have a friend cover your legs with sand in the shape of a mermaid tail.
Beach Fun
[
]
Take a walk on the beach and collect seashells or sand.
Wildlife
[
]
Observe wildlife at the beach and make a list of what you see. Also, note that some of these may be endangered and what you can do to help them. Some examples of endangered animals are:
Perdido Key Beach Mouse http://www.fws.gov/endangered/i/a/saa8f.html
Alabama Sea Turtles http://www.alabamaseaturtles.com/how-you-can-help/
Some wildlife you may see are pelicans, seagulls, dolphins, sea turtles, hermit crabs, fish, jelly fish, blue crabs, sand fleas, beach mouse, minnows, sand dollars, sea weed.
Respect the Beach
[
]
Treat the Beach with respect by performing the following:
Do not litter. Take your trash with you when you leave.
Don't walk on sand dunes or pick the sea oats. Healthy sand dunes provide protection to the inland as well as habitat to numerous species.
Don't disturb turtle nests.
Fill-in any holes you dig at the beach. Holes are dangerous for people walking or running on the beach.
See also
[
]